Whether you have only just treated yourself to your first gaming laptop or video game console or else are already a seasoned gamer, one of the best ways to create a totally immersive experience is to set up your gaming area properly.
With that being said, continue reading to discover a step-by-step guide to creating the perfect gaming room or gaming area to enhance your gaming experience ten-fold.
1. Your Battle Station
Your battle station, more commonly known as your core gaming setup, is one of the fundamental ways in which you can influence just how good an experience you will have each and every time you sit down to play a video game.
Essentially, your 'battle station' compromises your gaming laptop or gaming PC itself, a gaming chair, at least one large monitor, a gaming desk, and your mouse and keyboard – and each element should be chosen carefully to suit your individual needs and desires.
By far, the most popular way of presenting your gaming area is to ensure that there is enough room around the desk, that the space is backlit (usually by multi-colored LED lights), and that the desk is ideally placed so the light from the window never reflects off the screen. Furthermore, blackout curtains are often used for a gaming room; however, naturally, this does mean that when you are not gaming, the space can seem too dark and overtly oppressive.
2. Choose Your Gaming Chair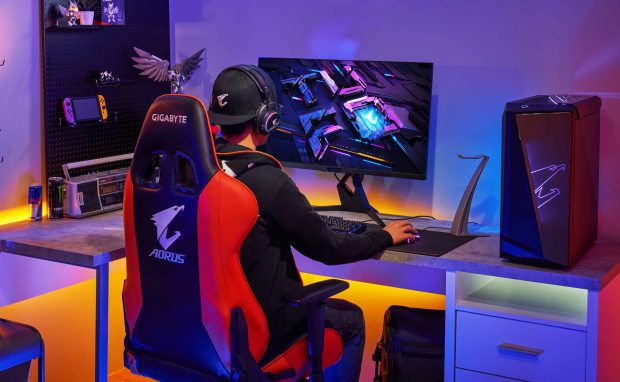 Unless you are an incredibly disciplined gamer, the chances are that, aside from your professional commitments and personal responsibilities, most of your free time will be spent gaming – and this means you will undoubtedly be sitting in your gaming chair for many hours at a time.
It is for this reason that the choice of which gaming chair is best for your gaming room should never be taken lightly, and it is important to consider the following when researching:
Sturdy material (either high-quality fabric or leather)
Inflated prices are not always indicative of chair quality
Choose adjustable back, sides, and headrest
Choose mesh sidings and pressurized lumbar support
More expensive chairs include extra tech and built-in features
Even if you are lucky enough not to have any particular problems with your back, neck, or shoulders, you should still invest in a quality gaming chair that will support your body properly. You may well not be experiencing any discomfort now, but if you intend on gaming for many years, things could obviously change over time.
Essentially, the three most important components of a high-quality and comfortable gaming chair are the material the seat and back are made from, the size of the seat, and the general ergonomics.
3. Invest in a Quality Monitor
If you are fortunate enough to be the proud owner of a gaming-specific laptop, such as the impressive range of Lenovo gaming laptops as a fine example, then your quest for the perfect monitor and high-resolution display is entirely fulfilled automatically. Indeed, if you haven't yet invested in your technology, there are numerous reasons why you should choose a gaming laptop or gaming PC over a gaming console.
In any case, when it comes to monitors and displays, remember that your monitor should be set in a position whereby you never have to strain your neck or shoulders, and comfort is one of the two biggest considerations in a gaming monitor. The other, naturally, is the high-resolution nature of the display itself; the better the resolution of the screen, the better your overall gaming experience will be.
4. Source the Perfect Gaming Desk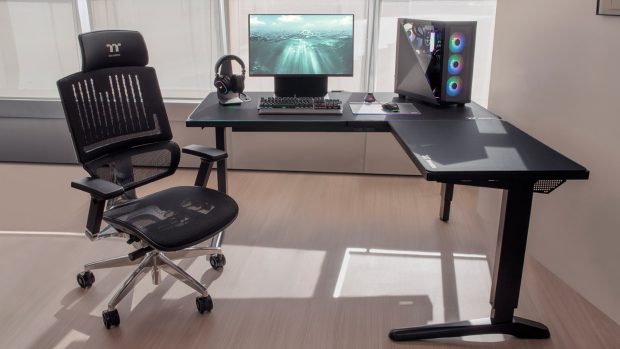 Thankfully, you will be relieved to learn that, unlike other items included in this guide, you can afford to be considerably less choosy when it comes to selecting your gaming desk.
The main element you really need to think about is the size of the desk and how it will comfortably fit inside your gaming room or gaming area – and additionally, you must ensure that your new gaming chair will fit comfortably in the space within the desk setup.
Ensure that the gaming desk you finally decide upon has a smooth, flat surface and table-top and that the top is plenty large enough to accommodate your mouse, display monitors, keyboard, and any other gaming accessories you may want to invest in in the future.
Naturally, again with a specific gaming laptop, you will benefit from a much larger amount of free space on the desk, which will substantially boost the comfort level of your arms and shoulders when leaning into the monitor as you play games.
5. Choose the Right Gaming Accessories for You
Speaking of gaming accessories, you may well be slightly shocked to learn of the sheer variety of options when it comes to enhancing your overall gaming experience.
It would be pertinent to note that the items discussed in detail in this article are merely the essential components you will need to have a complete gaming experience. However, there are some truly impressive gaming accessories available in the world of gaming that will enhance your gaming life even further, with some great examples being:
Gaming headset
Wireless mouse
Stereo speakers
Two mesh wireless routers
Gaming controller with Bluetooth connectivity
Smart lighting, ideally that is customizable
Backlit ergonomic wireless keyboard
6. Decorate Your Gaming Space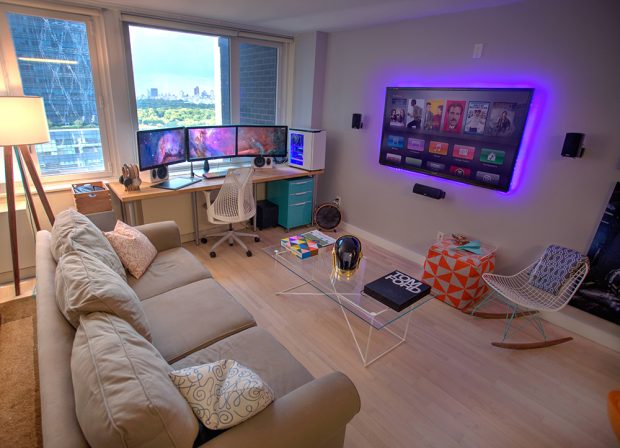 Once you have invested in each key component to make your gaming experience not just possible but as immersive as it possibly can be, it is then time to consider the aesthetic appearance of your room.
LED lighting is pretty much a staple of gaming decor and works perfectly in sync with the aforementioned blackout curtains to combat the darkness and focus the eye and the mind on the task at hand.
In addition, floating shelves to store your games can save considerable space, artificial plants will make you seem more connected and grounded, and graphic posters and gaming prints are a fantastic idea to adorn the walls around the area.